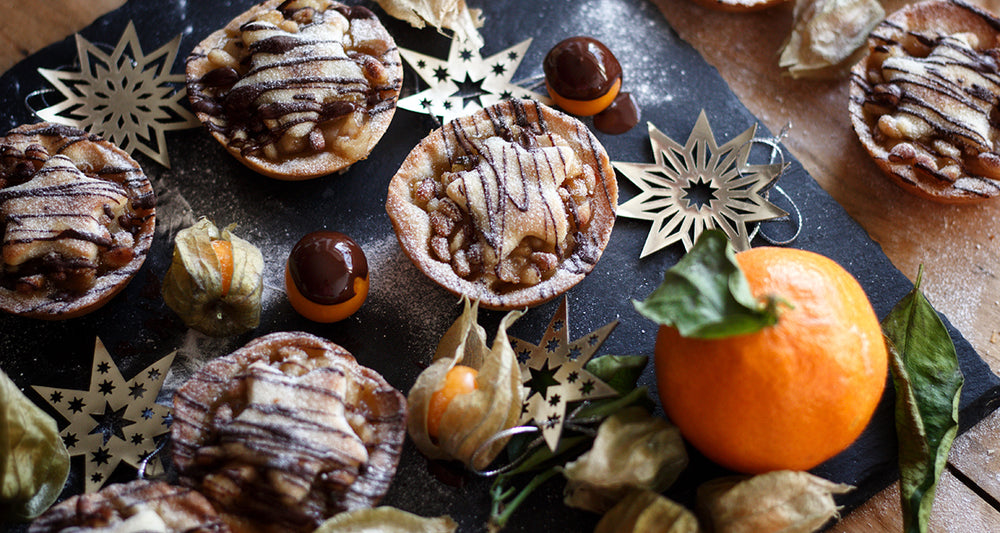 Winter Spiced Pear Tarts w/ Pine Nuts & Chocolate
Instructions
Begin with the pastry by rubbing flour and cold butter into crumbs.
Stir sugar through.
Add egg yolk and cut mixture with metal knife until incorporated.
Add a little cold water at a time to bring just bring dough together.
Wrap and store pastry in fridge overnight.

For the filling, slice pears and add zest, cinnamon, cloves, thyme and vanilla seeds plus pod and leave to infuse overnight.
When ready the next day, preheat oven to 180c/356f/gas mark 4 and grease muffin tin.

Roll pastry onto floured surface, reserving a small chunk to make pastry stars later.
Cut 9 discs of pastry and line muffin tin.
Cut 9 pastry stars from remaining pastry
Blind bake for 8 minutes - you can use baking beans (or protect your pastry with greaseproof paper and use clean, spare coins).
Meanwhile, remove and discard cloves and vanilla pod from pear mixture and stir in toasted pine nuts.
Fill tarts and add pastry star to each, brushing with a little cold milk to help browning in the oven.
Bake for 10 - 14 minutes (checking to see how they brown).
Remove from oven and to sit for a few minutes before turning out on a rack to cool.
Drizzle with melted chocolate.
Serve plain, or with brandy cream (and don't forget to dip any other fruit to hand in the spare melted chocolate).
Top tip: Don't forget to check out our Christmas Shop here for everything you need this festive season!
Ingredients
Available in store
For The Pastry

170g plain flour
100g cold butter
1 tbsp caster sugar
1 large free range egg yolk

For The Filling

2 Comice pears, sliced
Zest of one clementine
Pinch of cinnamon
6 whole cloves
1 vanilla pod, scraped and split
1 vanilla pod, scraped and split
75g toasted pine nuts
3 sprigs of thyme, stripped and chopped
1 tbsp brown sugar
100g dark chocolate, melted