Roast Leg Of Hogget & Cipolle Onion Champ
Instructions
Remove the hogget from the fridge one hour before cooking and allow it to come up to room temperature.
Prepare a roasting tin by halving the shallots lengthways and placing in the tin along with the whole bulbs of garlic to create a trivet.
Place the hogget on top, rub with 20ml of olive oil and season well with salt and pepper.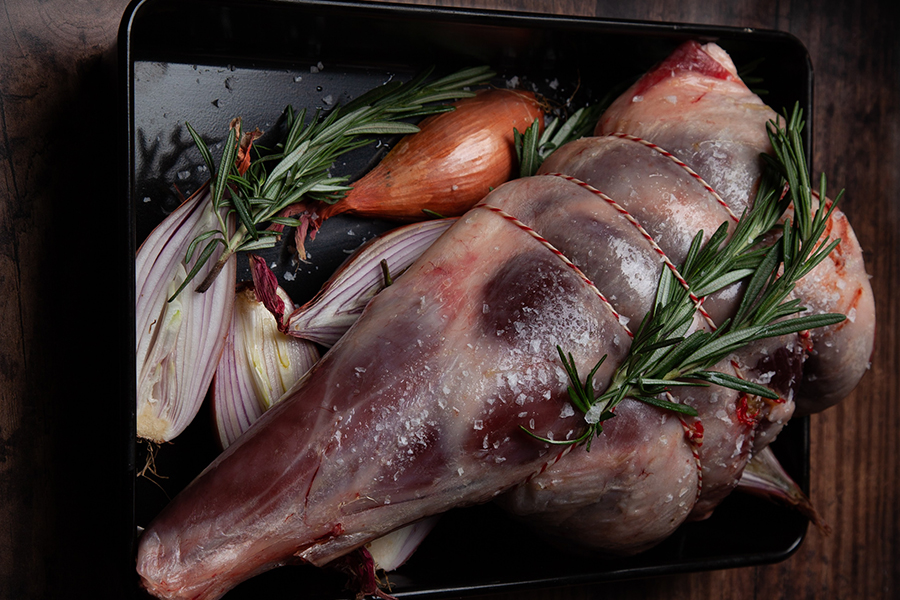 Tuck the rosemary sprigs in to the strings and add 1 litre of cold water to the bottom of the tin.
Cook the hogget uncovered for approximately 1 ¼ to 1 ½ hours.
Remove the hogget and shallots from the roasting tin, cover lightly with foil and rest for 45mins.
To make the gravy, add the flour to the roasting tin and mix well, scraping up all the tasty bits.
Place on a low heat on the cooker top and slowly whisk until thickened.
For the champ, peel the potatoes, add to salted water and bring to the boil. Reduce to a simmer and cook until tender.
Meanwhile, prepare the Cipolle onions by removing the outer skin and discarding 2-3 cm off the end. Wash well in cold running water.
Cut the onions so the bulb ends are the same length, about 10-12cm, (keeping the remaining green parts for the mash.) Lay on a baking tray, drizzle with 20ml of the olive oil and season well.
Roast in the oven for 10–15 minutes, adding the shallots from the roasting tin for the last 5 minutes to reheat.
Slice the remaining onions thinly, add to a small saucepan with the butter and sauté gently until softened.
Drain & mash the cooked potatoes and mix in the sliced onions & butter. Season the mash well with salt and pepper.
Carve the hogget and serve family style with the mash, plus crab apple jelly and glazed heritage carrots.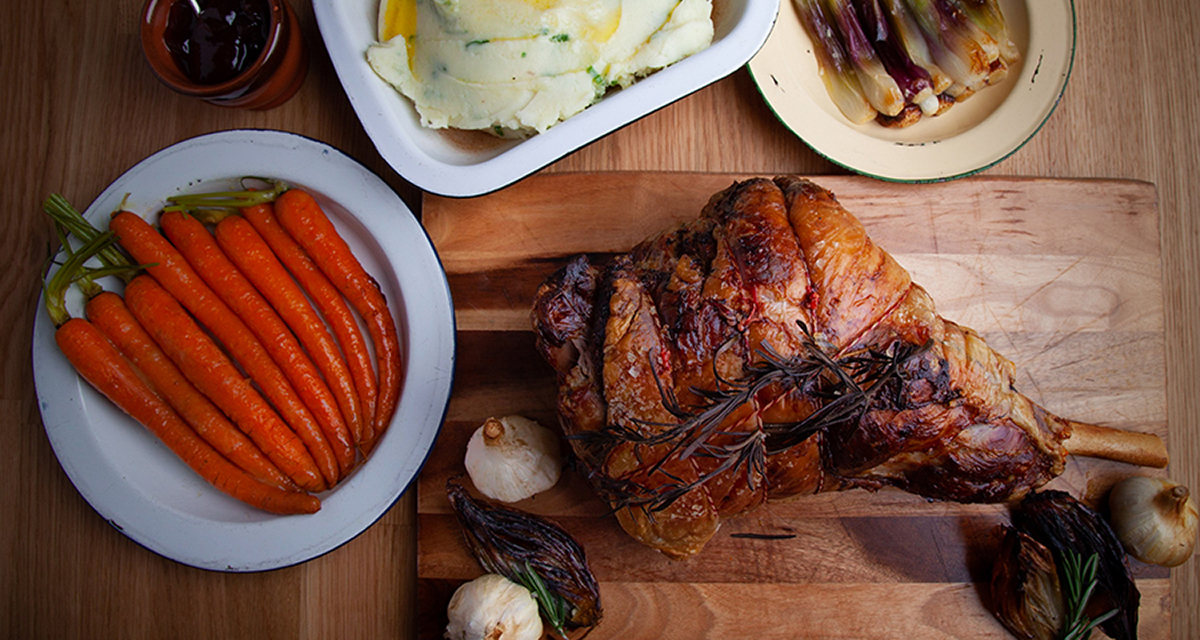 Ingredients
Available in store
3kg Leg of Kentish Hogget
40ml Extra Virgin Olive Oil
2 Garlic Bulbs
4 Banana Shallots
30g Plain Flour
500ml Chicken Stock
A few sprigs of Rosemary
Maldon Sea Salt & Freshly Ground Black Pepper
1.5kg Potatoes
1 bunch Cipolle (Tropea) Onions
150g Butter