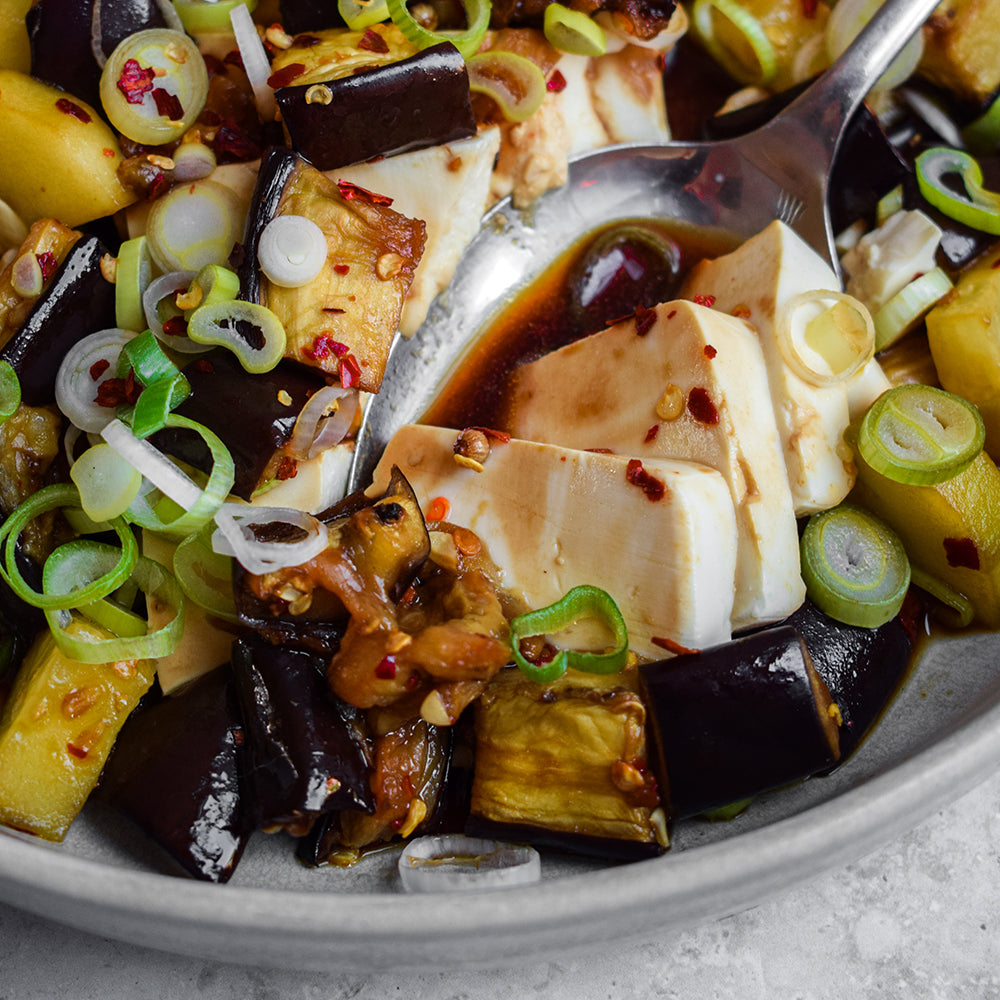 Chilled Aubergine & Cucumber Salad with Tofu
Instructions
Pre-heat the oven to 200 degrees. Chop the aubergine into bite-size cubes and toss together on a baking tray with the olive oil, coriander seeds and a generous amount of sea salt. Roast for 20 minutes then set aside to cool.
Meanwhile, make the dressing by whisking together the rice wine vinegar, soy sauce, maple syrup, dried chilli flakes, salt and tamarind paste in a large bowl until the salt has dissolved.
Peel and chop the cucumber into pieces roughly the same size as the aubergine pieces, and add them, along with the cooled aubergine to the dressing. Toss so everything is well coated, and chill for at least 30 minutes, but up to 2 hours.
To serve, drain the tofu and cut into thick slices, taking care not to break up the tofu curds. Carefully arrange them on a serving dish.
Spoon over the aubergine and cucumber salad along with the dressing, and scatter over the spring onions, finely sliced. Serve immediately.
Ingredients
Available in store
For the aubergine:

1 large aubergine
1 tbsp extra virgin olive oil
1/2 tsp coriander seeds
Sea salt

For the salad:

1 tbsp rice wine vinegar
1 tsp soy sauce
1 tsp maple syrup
1 tsp dried chilli flakes
1/2 tsp sea salt
1/2 tsp tamarind paste
1/2 cucumber
2 large spring onions
1 x 300g block silken tofu