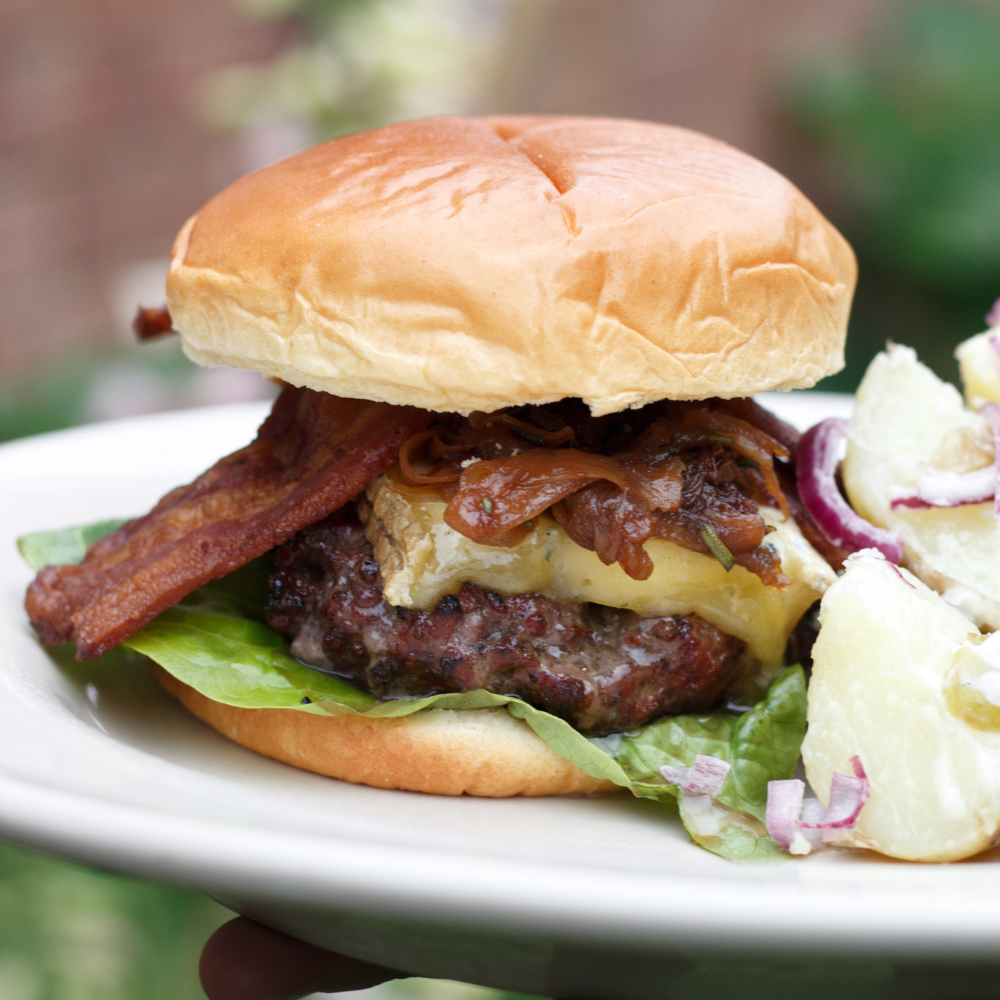 BBQ Burgers
Instructions
Preheat oven to 180 degrees.

Line a baking tray with baking paper and lay strips of bacon on top.
When the oven is hot enough, add the tray and cook for twenty minutes or until the bacon is deep, dark brown and crispy all over - set aside when finished.
It helps to remove the slices of bacon to a sheet of kitchen roll if you have it, to allow them to really crisp up.
While the bacon is cooking, you can boil the new potatoes - approximately 20 mins depending on their size.
Prep the burger patties, prep the caramelised shallots and make sure someone is bringing the BBQ up to temperature!
To make the burgers, simply mix the beef mince with around a tsp of minced garlic, and season well with salt and pepper.
Divide the mixture into four balls and press down on them with the back of a plate to flatten them into burgers to the thickness you prefer - set aside.

Brush the broad beans and asparagus with oil - set aside.
To caramelise the shallots, add to a pan over a medium-high heat with a little oil and soften them slowly, stirring every few moments to ensure they take on an even, golden colour.
After around 10 -15 minutes, they should be a soft brown colour, at which point you can add the rosemary and a tsp of sugar and allowing this to melt into the onions.
Add the whisky and cook until reduced and sticky - if you'd like them extra sweet, you can add a handful of sultanas and cook them through until soft.
Drain the potatoes once they are ready and mix with chopped herbs, gherkins, red onion and mayonnaise. Season to taste.
Head to the BBQ and grill the asparagus and broad beans until blackened and soft and set aside.
Cook your burgers to your desired state - medium rare and upwards is recommended though will depend on preference - during the last two minutes, add a slice of Kentish blue on top of each and allow to melt.
Build burgers with fresh lettuce, cooked patties and cheese, bacon, caramelised shallots, and whatever else you fancy.
Heap potato salad and grilled veggies on the side.
Enjoy!
Ingredients
Available in store
1kg beef mince
250g smoked streaky bacon
1 tsp minced garlic
250g Kentish blue cheese cut into four slices
3 shallots
1 tsp sugar
50ml whisky
1 handful fresh rosemary, chopped
500g new potatoes
1 red onion
Handful of gherkins, chopped
Handful of fresh mint, chopped
2 tbsp mayonnaise
8 thick spears asparagus
8 large broad beans
Olive oil