A British Cheese Feast
15 - 30 (depending on recipe) -
Serves 2 - 12 depending on recipe
Instructions
Baked Baron Bigod w/ Elderflower Honey
Break the 250g of Baron Bigod into sturdy pieces to fit a sturdy ramekin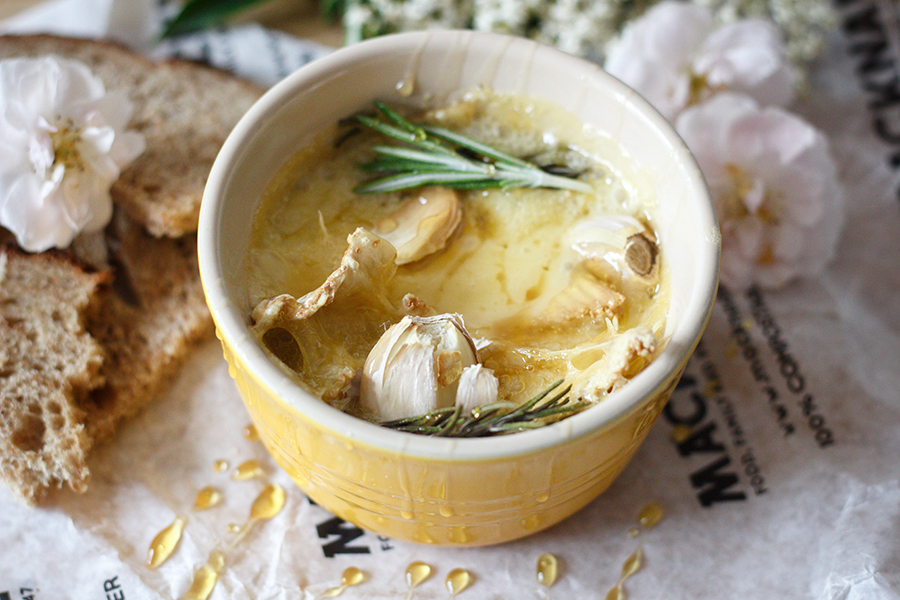 Add garlic cloves and sprigs of rosemary before baking in an oven preheated to 180c for between 10-15 minutes until gooey.

Serve with crusty bread, cracked black pepper and a good drizzle of elderflower-infused honey.

Ogleshield 'Oglebit'
Grate 250g of Ogleshield with two egg yolks, a tbsp of wholegrain mustard, a tbsp of Worcestershire sauce and some chopped rosemary

Load onto sourdough slices and grill until melted and golden

Serve with a drizzle of Kentish honey to offset the distinctly delicious tang.

Rutland Red Rounds
Rub 125g of butter into 175g of plain flour with a pinch of salt and a good grind of pepper, before adding 150g of Rutland Red and working into a dough.

Roll into a long, sturdy log shape and wrap with cling film. Pop this in the freezer for 30mins

After 30 mins, take out of the freezer & cut into thick rounds

Bake in an oven pre-heated to 180C (160C fan-assisted)/350F/gas mark 4 for twenty minutes.

Allow to cool and serve as is, or with something sweet like chutney or wild rose infused honey. You can also brush the cold log before baking with egg white and roll in seeds for extra bite: think carraway or onion seeds.

Kingcott Blue June Garden Salad
Crumble 200g of Kingcott Blue into a crunchy salad of green leaves, chopped celery, currants, raw garden peas, parsley and toasted walnuts.

Finish with a little jasmine infused honey, or a simple dressing of local honey, white vine vinegar & extra virgin olive oil.

Ingredients
Available in store
Baked Baron Bigod w/ Elderflower Honey

250g Baron Bigod
Garlic Cloves
Sprigs of Rosemary
Elderflower infused honey

Ogleshield Oglebit

250g grated Ogleshield
2 egg yolks
1 tbsp wholegrain mustard
1 tbsp worcestershire sauce
Handful of chopped rosemary
Kentish honey

Rutland Red Rounds

125g butter
175g plain flour
150g Rutland Red
Wild rose infused honey

Kingcott Blue June Garden Salad

200g Kingcott Blue
Green salad leaves
Chopped celery
Currents
Garden peas (raw)
Parsley
Toasted walnuts
Jasmine infused honey